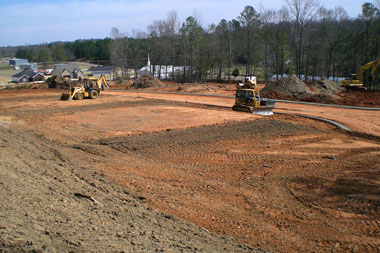 Our Services
Municipal Water, Municipal Sanitary Sewer, Storm Drainage and Detention Systems, Erosion Control, Grading and Excavation, Clearing & Grubbing, Concrete Curb & Gutter & flat work, Asphalt Paving. Our experienced crews use high-performance equipment to prepare your site. We own and maintain a fleet of modern construction equipment ready to support these efforts.
Earthwork
Whether you need to move a few cubic yards or a few million cubic yards, Civil Worx can get your project safely out of the ground fast. To effectively move and process large volumes of soil, you need the right equipment operated by people with experience.
Civil Worx's fleet of heavy equipment is well maintained and ready to mobilize. In order to operate heavy earthmoving equipment safely and effectively, there is no replacement for "time in the seat". Our reputation in the local market as a fair and dependable employer ensures our projects are staffed with the most experienced operators.
A thorough knowledge of the local soil conditions is critical to understanding how to effectively perform an earthmoving operation. Through decades of experience, Civil Worx's estimators and field crews have determined the best means and methods for getting your project to grade without costly surprises.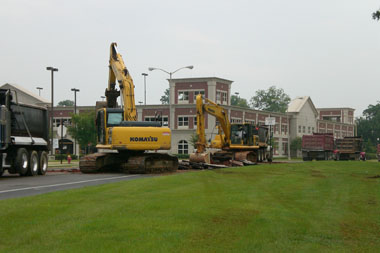 Grading
At Civil Worx, we combine state-of-the-art technology with talented equipment operators and we take pride in our ability to provide finish grades that exceed both project specifications and client expectations.
Utilities
As part of our full-service capabilities, our in-house crews install complete wet utility packages consisting of storm sewer, sanitary sewer, domestic water and fire line systems. We have extensive experience installing deep complex underground infrastructure in extremely tight quarters while coordinating with the on-going work of other trades.
Civil Worx would like the opportunity to work with you. Please Contact Us for more information.